A SHORT HISTORY OF CLOWN
In the mid to late 1700's the clown appeared in England: CLOWN from the word CLOD.
There were also equestrian circuses with acrobatS doing tricks on horses. This caused much tension in the audience, until one fell off and it produced laughter. Ainsley sees how laughter breaks the tension. The trainers who clean up bring comedy into the ring also. Clowns created space between two serious polls.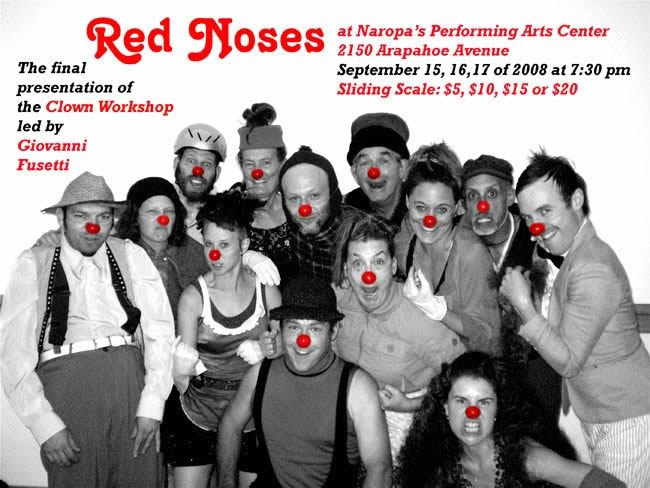 Clown types: White Faced (Boss) and Auguste (Clod) Similar to Pantalone and Zani.
Clown went from Circus to Theatre to Street. The stupid clown became popular in the theatre. White Face and Auguste partnered. Laurel and Hardy, Abott and Costello, Blues Brothers.

QUESTIONS TO ANSWER:
How does clown belong to theatre?
What are the current types of clowns?
Why do we study and perform clown today?
THREE FUNDAMENTAL GIFTS FROM THE CLOWN WORLD
"Intelligence is limited/ Stupidity is infinite," or "Order is limited/ Chaos is infinite."

HERO vs. CLOWN: Hero will not fall/ Clown will fall. Clown will try to reason with the Hero, talk him out of his struggle. "Have some coffee! Go home to your wife and family.") The image is of the Hero standing vertical and the Clown lounging on the ground playfully wooing the hero.
What is the only thing we know for sure as humans? That we will die. (Image of the clock. Time ticking away. Time is limited.)

CRUCIAL THEATRICAL QUESTION: What do we do with that time? HERO says, "Who says I can only live 75 years? Whose in charge here? He revolts against the Gods. "I'm not playing by your rules. I'll kill myself." THE CLOWN SAYS: Think about what you're saying. HERO SAYS: Why? CLOWN SAYS: Because! In KING LEAR, Lear rejects the one who loves him, accepts flattery, is thrown out and winds up in the wilds, yelling at nature and his fate. The fool comes buy to tell him "You're crazy!" I'm even smart next to you! (Stephen Colbert at Bush roast.)

THE CLOWN LIVES IN A WORLD OF IMPERFECTIONS

CLOWN is a form that represents human imperfections that we can laugh at. In so doing, we are laughing at ourselves. The clown's survival is our own survival. THE CLOWN takes on human imperfections and allows the audience to laugh at them.

All this I learned from my Clown Father and Son, Giovanni Fusetti.
Theatre Clown and Commedia dell'Arte at the University of Pittsburgh